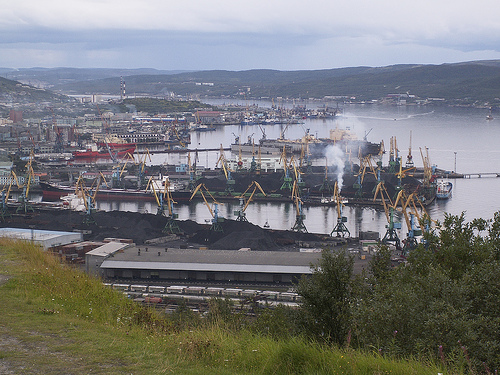 Specialized Oil-Loading Seaport Vitino captured by Russian security officials through hostage taking keeps on being a subject of carve-up and litigations by Russian and international companies.
The fate of Russian Specialized Oil-Loading Seaport Vitino located on the White Sea coast has been one of the most discussed Russia related topics in Great Britain for past months.
This case is accompanied with a chain of scandals and legal proceedings connected with a struggle for the port at the courts in Cyprus, Great Britain and Russia.
Co-owner of Vitino Seaport citizen of Kazakhstan Mr. Abliazov, known in Europe as enemy to the current government of Kazakhstan, struggles at the courts of European jurisdiction for one of Arctic basin's largest terminals against his Russian ex-partners Maxim Pukhlikov and Sergey Sheklanov.
In February 2012, London's Commercial Court adopted a decision to take into custody for the period of 22 months co-owner of the port, citizen of Kazakhstan Mr. Abliazov for the expressed contempt of court – for having refused to disclose his assets. Mister Abliazov appealed against the decision at the Supreme Court of London. Experts believe that the Commercial Court's resolution may weaken the standing of Mr. Abliazov in his efforts for the Specialized Oil-Loading Seaport Vitino disputed at European courts.
However, the story of Vitino Seaport lies mush deeper. It dates back to the far year of 1993 that Russian businessman Zurab Musinyan made a bold venture to build Vitino Seaport in harsh environmental conditions of the north.
Specialized Oil-Loading Seaport Vitino successfully cooperated with Russian oil-producing companies, loaded and shipped 50-80-metric-ton tankers to Europe and North America. The port reached the peak of prosperity in 2005-2006. The port handled 4.76 million tons of oil products in 2006; the staff of over 1000 people received salaries in time, the trading volume reached USD 80 million a year, and capitalization – USD 400 mln. Ninety-seven percent of the port stocks was held by Zurab Musinyan.
That very time a story occurred, which laid the foundation of further events to become a subject of extended disputed and litigations at the courts in many countries.
The story began in Moscow. On a December day in 2005, Mister Musinian, the port owner, was approached on the street by officials of the Murmansk Regional Federal Security Service (FSB) of Russia demanding making his property over to Alexander Mitrofanov (65 percent) and Dmitry Sorokin (32 percent), within a month. Upon his refusing to do so, FSB would initiate a criminal case on incitement to terrorism.
In April 2006, FSB searched Musinyan company headquarters. On 22 May 2006, Mister Musinyan was summoned for questioning in the city of Murmansk. An investigator at the Investigation Department of the Murmansk Regional Federal Security Service of Russia used to urge Mister Musinyan during the interrogation that he had to sign a document for making his company shares over, and all problems would be settled. Otherwise, Musinyan would have big problems, be charged with terrorism and imprisoned.
Mister Musinyan refused the investigator's proposal to part with his business. On 22 May at 06:00 pm, he was seized and put into a one-man cell. At 08:00 pm, the official of Murmansk Regional FSB who had threatened harm entered the cell, handcuffed Musinyan to a prison bed, put a plastic bag on his head and demanded selling his company at a nominal price.
On 23 May, at 10:00 am, Mr. Musinyan was transported from the prison to the Head of the Investigation Department of the Murmansk Regional Federal Security Service of Russia, and the latter informed Musinyan that the prisoner's daughter had been hijacked from a kindergarten, and allowed talking with her on the phone.
The Head of the Investigation Department of the Murmansk Regional Federal Security Service of Russia assured that upon Musinyan's signing a sale agreement for 97 percent of shares of Specialized Seaport Vitino, at a nominal price of 97,000 rubles (appr. $3,000), whereas its market price was $400 mln, and the record of interrogation, Musinyan and his daughter would be released and his criminal case would be closed in near future.
In March 2008, officials at Murmansk Regional FSB extorted USD 3 million from Mister Musinyan to close the criminal case. If he failed to give the money within one week, they would declare him terrorist, arrest and put into prison.
In April 2008, Mr. Musinyan left for Lithuania and began to write letters to all bodies of power, including President and Prime Minister of the Russian Federation, asking to perform a functional audit and providing all required documents to prove the specified facts (testimonies).
Mister Musinyan received replies that the FSB officials had acted within the bounds of the law. When Musinyan lost his hope for a fair resolution, he filed a petition to Lithuanian gov't for asylum and submitted required documents proving related facts.
On 30 December 2010, Mister Musinyan was arrested in Italy by Roman policemen, upon Russia's request. His case was considered by the Rome Court of Appeal on 15 February. The court chaired by Dr Gian Paolo Fiorelli delivered a judgment that "there are no grounds for prosecution with an object of Musinyan's extradition to Russia, and he is to be immediately discharged."
For all these years, the founder of one of the most profitable Northern ports has been escaping from prosecution by Russian government as he was indicted for "organization of an act of terror" in Murmansk. A method of the alleged act of terror was copied by law enforcement agencies from… materials of the anti-terror exercise held by them in November 2005. Musinyan was charged with an attempt to blow up Trader tanker, where FSB officials had drilled release of hostages and crew a year before. They certainly failed to find any technical equipment for blowing up the ship with 147-ton displacement at the businessman. Experts consider that case to be one of the most shameful in the history of combating a real threat of terrorism carried out by Russian special forces.
Since then, the fate of Vitino Port's new owners is not successful. After Musinyan's having left the country, the port was managed inefficiently. In 2008, one hundred percent of the shares of Specialized Seaport Vitino was held by three individuals: the controlling stake – by a Kazakh businessman Abliazov, and forty-nine percent – by Russian businessmen Maxim Pukhlikov and Sergey Sheklanov. By that time, a plan for the port development was elaborated, and Regulation of the Government of Russia #224-r of 24 February 2009 established boundaries of the seaport (photo by Antonio Bonanno).
After a while, Mr. Abliazov himself became a political refugee because of a conflict with political leaders of Kazakhstan and now lives in Great Britain. Making use of Abliazov's having left Russia, his partners for the port development project Maxim Pukhlikov and Sergey Sheklanov tried to seize his company share.  Numerous litigations were initiated in Cyprus, Great Britain and Russia accompanied by publications in the press and mutual accusations.
In 2011, even a former purchaser of Specialized Oil-Loading Seaport Vitino Anatoly Sorokin who had tried to buy it at 3 thousand dollars appeared on the scene. In November 2011, Mr. Sorokin attempted to have the port sale transaction declared null and void at 13th Saint-Petersburg Court of Appeal. He tried to prove that he was entitled to buy back at… 10,000 dollars, but the court refused.
Due to the winning of judicial cases in Cyprus courts, Mister Abliazov established control over the company, however the shares held by him were later levied distress. Mr. Abliazov is trying to recover USD 120 million – the amount granted by BTA Bank as a loan – injected into the port development. It is unknown where the chain of hearings may come. New litigations are certainly to take place in London and Cyprus. In the meantime, one of Arctic basin's largest terminals is in difficult times. The finance situation in the company leaves something to be desired. The volume of oil products transshipment at the Specialized Oil-Loading Seaport Vitino went down by 15 percent, for the first two months in 2012. The major challenge for the company is that new terminals are supposed to be built in that region which would be a proper alternative for prospects, in the near future. According to the Russian press, Igor Putin, a cousin of the newly elected Russian President,  is going to build a modern seaport Pechenega in Murmansk oblast.  
There're many stories like the story of the Russian businessman Zurab Musinyan. Having become a victim of greed and lawlessness from Russian government officials, the businessman with a good repute and excellent managerial skills awarded with certificates of merit by the Ministry of Energy of Russia and UNESCO, and Patron of the Century award, Zurab Musinyan has to stay outside Russia – the country he sincerely loves and worked for so much.
Zurab Musinyan underlined the following: "Terrorism is an international challenge, which is topical for Russia and the whole world. This is a kind of crime to be investigated by engineer professionals, and any errors in identifying and analyzing supposed instruments of crime are not to happen. In my case, my instrument of crime could be a pen used for piercing the hull of the many-thousand-ton ship. The criminal case against me which is still opened as of March 2012 has no material evidence (!), and Russia demands my extradition via the Interpol. So, no alleged instrument of crime has been identified at all. Let investigators consider that I was able to take a run and pierce the hull of the 147-ton Trader tanker with my head. Let my case lie at door of Russian special services focused on combating international terrorism. Those who'd like to sort my case out can request it in Moscow and understand the way it was forged. Anyway, I'm happy to have escaped intimidation by "fighters against 3-year-old children", that my daughter is safe and sound, and that I'm under protection of a EU country. I do not take offence at the officials who decided to enrich themselves by hijacking and torturing."
The current time of the Russian capitalism development can be compared with the Communist era, but with the only difference… Then, after the October Revolution, companies of Russian entrepreneurs were impressed and seized by the Communist government, but now this is done by specific individuals who try to enrich at the expense of the power delegated to them for the protection of common men from the crime. Will there ever be the process of the property restitution in Russia? This is the question no European expert can clearly answer for.
Steven Whitehead 
​